Services
We are proud to offer a comprehensive list of dental services and treatments, using advanced dental technology. Whether your youngest needs their first cavity filled, your teen needs braces, or you're looking to replace missing teeth or stabilize dentures, we have a solution for every generation.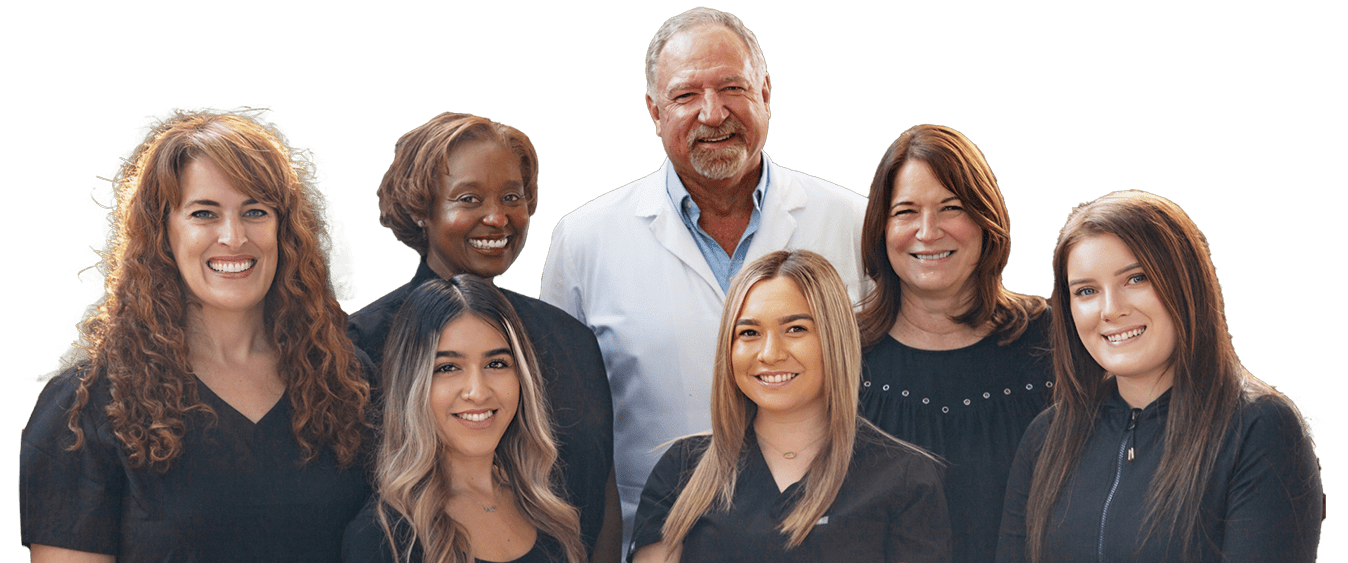 We are your trusted San Luis Obispo dental team, committed to helping you and your family smile comfortably and confidently.
General Dentistry
All Your General Dentistry Needs Under One Roof
We understand that dental issues can cause discomfort and affect your quality of life. You're not alone, and there's a solution. Our general dentistry services are designed to bring back your confident, radiant smile and make you feel your absolute best. Whether it's addressing a lingering toothache, restoring your oral health, or ensuring your smile stays beautiful, our compassionate team is here for you every step of the way. The best part? We prioritize your comfort, making sure you have a positive dental experience. Our general dentistry services include:
Dental Hygiene
Gum Disease
Comprehensive Check-ups
Restorative Dentistry
Rejuvenate Your Smile Comfortably
Accidents, tooth decay, and age can all contribute to our natural teeth losing their natural luster, negatively affecting the appearance of our smiles. However, when this happens, we are here to help. Dr. Colleran and his team are committed to not only preserving your dental health but also ensuring that your smile is beautiful and functional, giving you every reason to smile confidently. From tooth-colored fillings, and porcelain crowns to dentures, our restorative services will help you repair, replace, and restore the health and function of your teeth. We want you to smile with confidence and enjoy your favorite foods comfortably.
Porcelain Crowns
Porcelain Bridges
Tooth-Colored Fillings
Dentures
Cosmetic Dentistry
A Beautiful Smile, A More Confident You
Are cracked, stained, or crooked teeth causing you to feel self-conscious and hesitant to smile? There's no need to worry. Dr. Colleran and his team provide a range of cosmetic services designed to rejuvenate and enhance your smile, ultimately boosting your confidence. Whether it's achieving a more aligned set of teeth or a noticeably brighter smile, our mission is to empower you to radiate confidence with every smile you share. Schedule an appointment and let us help you achieve a more aesthetically pleasing smile through:
Porcelain Veneers
Teeth Whitening
Dental Implants
Say Hello To A Complete, Confident Smile
Missing teeth not only affect your confidence and quality of life but also can further lead to jaw bone loss. That is why we offer dental implants, your ultimate solution for missing teeth. Dental implants are artificial tooth roots that are surgically placed into the jawbone serving as a sturdy foundation for replacement teeth, such as crowns, bridges, or dentures. With dental implants, you'll experience the joy of having a permanent, secure, and natural-looking set of teeth.
But that's not all, here are more reasons why we recommend dental implants:
They are known for their longevity and can last for many years with proper care.
Provide a stable and reliable base for replacement teeth.
They look and feel like natural teeth, ensuring a seamless smile.
Helps maintain bone density and support overall oral health.
Helps you eat, speak, and chew with confidence.
Eliminates the discomfort and inconvenience of removable dentures
Significantly boosts your self-esteem and quality of life
Sedation Dentistry
Experience Comfortable Dentistry
Feeling anxious during your dental appointment is common and nothing to be ashamed of. We understand and we make it our priority to ensure your utmost comfort. Whether you require a routine dental check-up or a more extensive treatment, our sedation dentistry services offer you a comfortable experience toward optimal oral health. Our goal is to ensure nothing stops you from getting the dental care you need. We offer two types of sedation namely:
Nitrous Oxide
Oral Sedation
LANAP
Healthy Gums Mean Healthy Teeth And A Beautiful Smile
Healthy gums are an essential foundation for healthy teeth and smiles. So if you are suffering from gum disease, we offer LANAP (Laser-Assisted New Attachment Procedure), as a solution. LANAP is a more patient-friendly alternative to traditional gum surgery. It's a procedure that uses laser technology, offering a less invasive and more precise treatment option. LANAP targets and eliminates the diseased gum tissue while leaving healthy tissue intact. With LANAP you can:
Enjoy a more comfortable and efficient solution to gum disease, restoring your oral health and overall well-being.
Preserve your healthy gum tissue while removing diseased areas, promoting new tissue attachment and regeneration.
Save your natural teeth that would otherwise be at risk of extraction due to severe gum disease.
Experience less post-operative discomfort, swelling, and sensitivity, hence reducing recovery time.
Sleep Apnea
Let Us Help You Get A Good Night's Sleep
If you are one of the millions who suffer from sleep disturbances like snoring or sleep apnea, Dr. Colleran and his San Luis Obispo, California team can help you get a good night's rest. Sleep apnea is a serious condition that can affect all areas of your life.
Untreated sleep apnea has also been linked to increased blood pressure, and insulin resistance which over time can lead to diabetes, heart attack, or stroke. If you are struggling to sleep we would like to be part of the solution. Dr. Colleran offers customized solutions that will help you sleep better at night, including:
Oral Appliance Therapy (OAT)
CPAP Machine, and
Technology
Ensuring You Receive Exceptional Dental Care
Dr. Colleran and his team are committed to providing you with exceptional dental care as comfortably as possible. That is why we invest in advanced technology that is minimally invasive, convenient, and ensures you are well-informed throughout your dental appointment. From 3D Imaging, which provides us with comprehensive and detailed images of your mouth, to digital X-rays, which are quick, safe, and convenient, our advanced technology helps us accurately diagnose you and offer an effective treatment plan.
Digital X-rays
3D Imaging
iTero Scanner
*Dr. Colleran at Michael Colleran, DDS is a general dentist providing orthodontic and surgical services.