Flexible Financing Available
Get in touch with us today to learn how you can save on quality dental care.
We work to make the dental care you deserve accessible.
Welcome to Michael Colleran, DDS! If you're new to the San Luis Obispo area, we'd love to meet you and show you how wonderful our community is. If you haven't been able to fit oral health care into your life, or you just haven't felt like dental visits are something you and your family look forward to, we'd be grateful for the opportunity to make you smile about the care you receive. We're a practice that's passionate about what we do.
We believe our convenient hours and flexible financing options make us a good choice, but it's our service that makes us a great choice when selecting a dental practice for yourself and your loved ones.
No Insurance? No Problem!
According to the ADA, dental insurance is the number one predictor of dental visits. But in 2017, there were approximately 114 million Americans living without dental coverage. So, what about these people? Sadly, routine preventive care falls to the wayside because it's too expensive. This lack of preventive care leads to dental problems, which become even more expensive to treat than preventive care would have been. Thankfully, at the office of Michael Colleran, DDS, you don't have to have insurance to get quality dental care without breaking the bank.
Check out our in-house Patient Savings Plan!
No monthly premiums
No claim forms
No hidden fees
No waiting periods
No limits
No deductibles
No pre-authorizations
No pre-existing exclusions
No one denied membership
Yearly Membership Levels
Adult Standard $345
Child $255
Adult Periocare (diagnosed gum disease)

3 yearly visits $425
4 yearly visits $495
Services Included
Examinations (emergency + checkup)
2 cleanings (standard membership)
Check-up x-rays once per year
Full mouth x-rays every 3 years
Fluoride treatments
50% off sealants
$506 value with additional savings on ALL procedures!
20% Discount on ALL Other Procedures
Only one discount for any procedure. No annual maximum. No coverage for procedures not completed in our office. Periodontal membership depends on initial exam and/or history of periodontal treatment with the ultimate goal of optimal health. Payment for service is due at the time of service.
If you'd like to learn more or sign up for our Patient Savings Plan, give us a call or
contact us online today!
Discover why San Luis Obispo residents choose Michael Colleran, DDS as their home for dental health and wellness.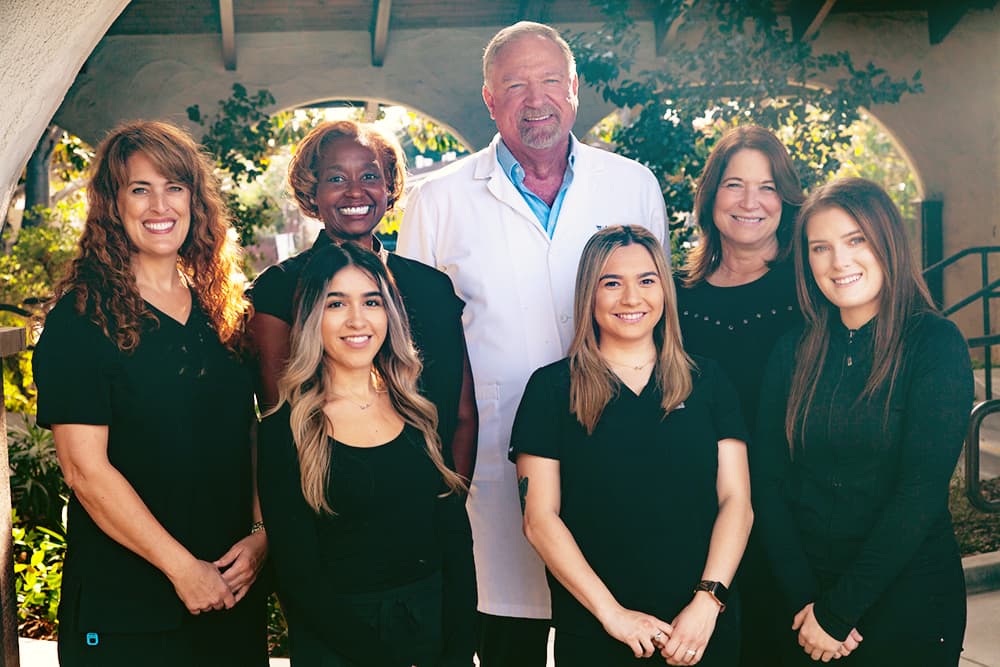 If the thought of going to the dentist makes you feel anxious or embarrassed, we want you to know… we get it! We're humans too, and we have to get our six-month checkups just like everyone else. That's why you can expect a comfortable, relaxed, family atmosphere at Michael Colleran, DDS. Experience the difference with a dental team that cares.
Advanced technology means fewer appointments, faster healing.
Convenient scheduling so you can get in, out, and back to your life.
Get everyone in at once with family appointment blocks.
No insurance? No problem. Take advantage of our flexible payment options.
Get in before school or after work with extended hours.
Feeling pain? Emergency services available – call now!
Get Started in Three Steps!
Step
1
Call now to schedule an appointment
We'll also gather any necessary paperwork
Step
2
Complete your new patient appointment
Get a customized treatment plan that fits your specific needs
Step
3
Get your
smile back!
Because you deserve to smile with confidence
Our Favorite Patients Often
Have experienced years of dental trauma
You don't have to feel ashamed of your smile, no matter it's condition. Our team are experts in caring for even the most advanced dental issues.
Bring generations of family with them
We love getting to meet your crazy uncles, sassy grandmas, and all the kiddos too! No matter what age, stage, or amount of dental care is needed, we've got you.
Are on a journey to better overall health
Your mouth is the gateway to your body. Discover how better dental care can translate to better overall health.
Compassionate Team.
Wonderful Experience.
Affordable Care.
Images shown are stock photos, not actual patients.